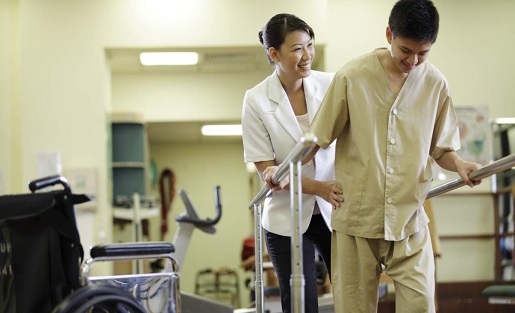 All major public hospitals have their own therapists, the teams were small and the waiting time to receive treatment could be up to two months.
National News Highlights the High Demand for Therapist
The article in The Star dated 18th September 2016, "Outstation patients also flocking to Klang Valley to get therapy faster", highlighted the critical demand for the professional therapist to help accident victims with their recovery. Such professional include occupational therapist and physiotherapist. The acute shortage has led to some accident victims and surgery patients being placed on a two-month waiting list for treatment. The ratio of therapist to patients is 1:17,777 claimed Malaysian Occupational Therapy Association president Soh Say Beng. This rate is three times below the global average of therapist-to-population ratio of 1:5,000
In a study on the Manpower Requirements in the Healthcare Sub-sector conducted by the Institute of Labour Market Information and Analysis (ILMIA) for the Ministry of Health, there was a critical talent gap identified for professions such as physiotherapist thus proving that they are in high demand. Similar trends are being seen globally due to the increase in the average population age.
The Star article continues to highlight that though all major public hospitals have their own therapists, the teams were small and the waiting time to receive treatment could be up to two months.
Though they share some similarities with Occupational therapist, physiotherapists play a slightly different role. They are healthcare professionals that assess, diagnoses, treats, and works to prevent disease and disability through physical means. They are experts in movement and function and they work in partnership with their patients, assisting them to overcome movement disorders, acquired through accident or injury, or are the result of ageing or life-changing events.
Assistant Professor Veeragoudhaman, a trained physiotherapy specialist from Chennai, India and the head of the Bachelor of Physiotherapy (Hons) programme at Cyberjaya University College of Medical Sciences (CUCMS) shared the importance of this profession. "Physiotherapists help maintain health for people of all ages, helping patients to manage pain and prevent disease especially in cases where no medication is available to treat the symptoms", he explained.
Physiotherapists work in public hospitals as well as a broad range of settings including at private clinics, medical centres, therapy centres, sporting institutions, clubs and through home care services. They are required to work closely with their patients and manage the following as part of the treatment:
Planning and executing personalized exercise programs designed to improve patient's strength, range of motion, and function
Prescription, fabrication and application of assistive, adaptive, supportive and protective devices and equipment
Providing Massage therapy for joint mobilization and manipulation to reduce pain and stiffness
Provide airway clearance methods to assist people with breathing difficulties
Implementing functional activity and tolerance testing and training
Provide work and occupational re-training and return to work planning.
And how does one become a physiotherapist? Cyberjaya University College of Medical Sciences offers a wide range of courses including a degree in physiotherapy. Students have access to highly experiences international faculty for their education. Assistant Professor Veeragoudhaman who has spent over 18 years as a trained physiotherapist remarked, "This professional degree programme teaches you evidence-based assessment, diagnosis and treatment skills. The curriculum design is reflecting current practices. Students will be equipped with physiotherapy skills for specialty areas such as geriatrics, paediatrics, sports and women's health."
The Star article can be found here: http://www.thestar.com.my/news/nation/2016/09/18/long-waiting-list-for-ot-treatment-outstation-patients-also-flocking-to-klang-valley-to-get-therapy/
Comments are closed.