University of Cyberjaya Faculty Member Receives Funding for Research on Anticancer Properties
Cyberjaya, 23rd September 2021 – Head of the Pharmaceutical Technology and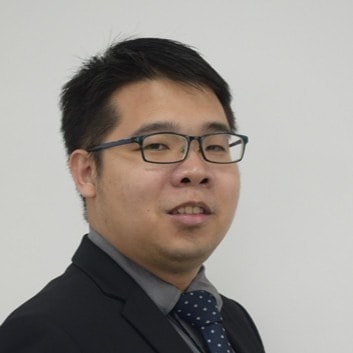 Industry Department, Assistant Professor Dr. Liew Kai Bin recently secured a Fundamental Research Grand Scheme (FRGS) award of RM144,300 from the Ministry of Higher Education for his research titled, "Development of a Luteolin Loaded Folate Decorated Vitamin E TPGS-Poloxamer Long Circulating Micelle for Multi Drug Resistant Breast Cancer Smart Targeting".
One of the major issues of anti-cancer drugs available in the market now is its reduced targeting specificity that leads to high side effects and mortality. Cancer research focus now has been shifted to discovering natural products that exhibits significant anti-cancer properties and improving the drug targeting property to reduce the side effects.
Luteolin is a natural compound found in plants that has been studied for its anti-cancer properties in various types of cancer cell lines. However, Luteolin has very low solubility and bioavailability (ability of a substance to be absorbed and used by the body) and this has limited its potential use as an anti-cancer agent.
This research aims to use a combination of Poloxamer and Vitamin E TPGS (a synthetic water-soluble version of vitamin E) to form luteolin micelle that has a long residence time in the body and is able to kill cancer cells effectively.
Dr. Liew's co-researchers are from number of universities including Associate Professor Dr. Shamima Abdul Rahman (University of Cyberjaya), Dr. Shairyzah Ahmad Hisham (University of Cyberjaya), Associate Professor Dr. Chan Siok Yee (Universiti Sains Malaysia), Dr. Masriana binti Hassan (Universiti Putra Malaysia) and Dr. Chew Yik Ling (UCSI University).
Dean of the Faculty of Pharmacy, Professor Datin Dr. Rosnani Hashim said: "We are thrilled to have secured a FRGS award to support this highly valuable research. With cancer being the second leading cause of death globally, research focused on discovering natural products that exhibit anti-cancer properties are critical areas that need to be explored. The University is very proud of Dr. Liew's efforts."
Dr. Liew is a licensed pharmacist and has obtained his PhD in the area of advanced drug delivery system. His area of expertise includes pharmaceutical technology, formulation sciences and nanotechnology.
"Cancer is the second leading cause of death globally. Multi-Drug Resistance (MDR) cancer that increases chances of therapy failure has even worsened the situation. Conventional anti-cancer drugs available in the market have serious and life-threatening side effects due to the lack of targeting specificity. Cancer research focus has been shifted to discovering natural products exhibits significant anti-cancer properties. This is why I believe more research has to be done to save lives. By incorporating my knowledge in formulation sciences and pharmaceutical technology, I hope new anti-cancer products with high efficacy, low toxicity and better cancer targeting activities can be developed," said Dr. Liew.
He added: "The University has various laboratory equipment which can be used in the development of the micelle. Furthermore, I'm certain that the project will be a success with the assistance of the University's experts in Pharmacy and Pharmaceutical Sciences. We estimate to complete the research in 3 years."
Dr. Liew's research was selected for the FRGS award through a highly competitive review process. The application which was submitted early this February included reviews from an internal reviewer, external panels, the Research Management Centre and the Ministry of Higher Education. The research proposal also involved a discussion between experts from various fields.