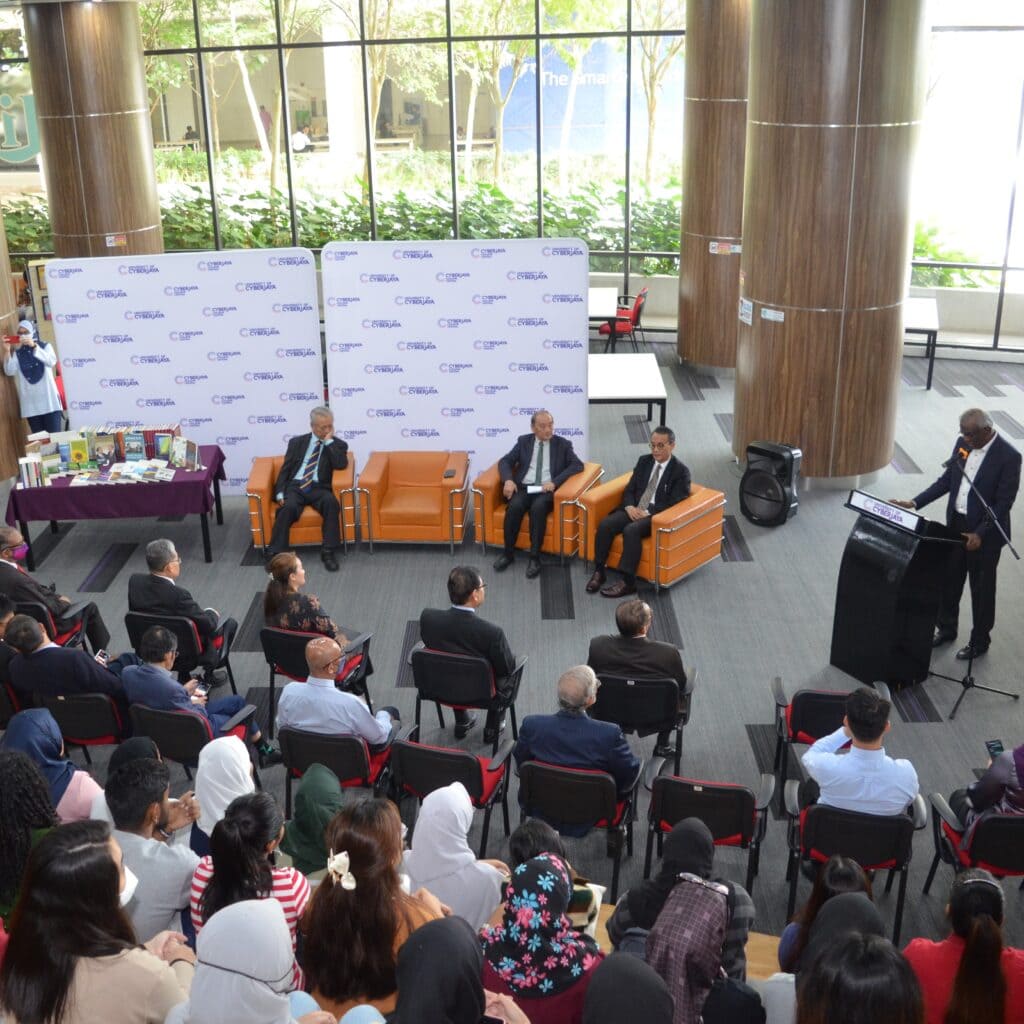 University of Cyberjaya's state-of-the-art library received more than 70 books from Soka Gakkai Malaysia, a non-governmental organisation on Wednesday, 18th January 2023. The books donated are authored or co-authored by philosopher and President of Soka Gakkai International, Daisaku Ikeda.
Daisaku Ikeda is a prolific writer, poet laureate, photographer, philosopher, scholar, educator, social activist, and passionate fighter for the cause of peace and global sustainability. He is an advocate of dialogue for peace, has travelled widely and been engaged in dialogue to promote creative responses to pressing issues facing humankind.
Daisaku is also the third president of Soka Gakkai International, a diverse global community of individuals in 192 countries and territories who practice Nichiren Buddhism that cherishes the values of peace, culture and education centred on respect for the dignity of life.
The local association, Soka Gakkai Malaysia promotes peace in society through cultural exchange and humanistic education and has been involved in a wide range of activities which include organising public lectures, seminars, music performances and more.
The book presentation event was graced by University of Cyberjaya's dignitaries including Pro Chancellor, Tan Sri Dato' Dr. R. Palan and Chairman of the Board of Governor's Professor Tan Sri Dato' Dr. Mohd Amin Jalaludin who accepted the books on behalf of University of Cyberjaya while Soka Gakai Malaysia was represented by General Director, Koh Sia Feai who presented the books to the university. The event was also attended by University of Cyberjaya's senate members and board of governors along with a group of students as part of their English language class.
"I'm delighted to accept the wonderful books of Japanese philosopher, Daisaku Ikeda into our library collection, thanks to Soka Gakkai Malaysia. These books we have received are aligned with the mission of our university to transform societies and provide holistic learning by serving humanity. We are certainly proud to promote a culture of peace, human values, and sustainability through Mr. Ikeda's books," said Pro Chancellor, Tan Sri Dato' Dr. R. Palan.
Mr. Koh Sia Feai said, "We sincerely wish to share the gems of wisdom and hope contained in the books with as many people as possible. We hope they will inspire in the readers, the broadmindedness, courage and wisdom to create a brighter future filled with harmony and peace."
The book presentation also included a poetry reading by Hisyam Hafezuddin bin Shuhaimi, Year 1 Bachelor of Psychology student. The poem was written by 14-year-old, Daria Chebotariova, a Ukrainian girl as part of the UNICEF Voices of Youth Poems for Peace Initiative.
University of Cyberjaya's library currently houses 18,000 titles along with hundreds of other digital media. With access to numerous high-impact international e-Journals, students are able to refer to hundreds of thousands of research papers and other digital literature at the tip of their fingers.
At University of Cyberjaya, students are taught to excel in both their academics and extracurricular activities while contributing to society. With these books, the university hopes students are able to broaden their horizons on building a culture of peace and serving the community for the benefit of mankind.