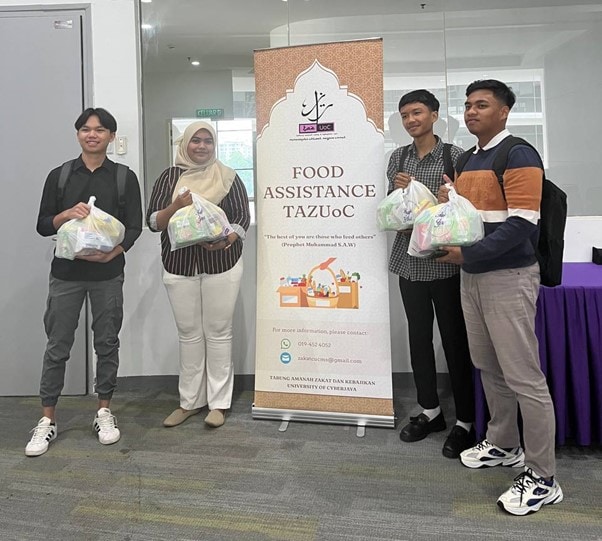 The University of Cyberjaya Zakat & Welfare Trust Fund (TAZUoC) recently initiated a programme called Food Assistance TAZUoC FAT 1.0 to aid students in need of dry food assistance. This programme is expected to ease the cost-of-living burden and prevent students from experiencing hunger.
A total of 65 dry food packs were distributed by the Chairman of TAZUoC, Assoc Prof Mohd Saidy Bin Hj Ismail, at the main campus of UoC to the eligible students who applied. The food was distributed during study week, to help students to be more focused on their studies in preparation for their examinations.
The students seeking this assistance come from various ethnic backgrounds, including Malay, Chinese, Indian, and international students. On average, those who applied for this aid stated that the high cost of living in Cyberjaya compelled them to make sacrifices, such as enduring hunger, in their effort to economise. Furthermore, the financial support they received from their parents was inadequate, as these funds were allocated towards covering their room rental expenses.
The programme director, Dr. Noor Adila from the Faculty of Business and Technology, emphasised that similar food bank programmes have been successfully implemented before and received positive responses. Therefore, TAZUoC intends to continue the Food Assistance TAZUoC programme periodically to aid students in need in the future.