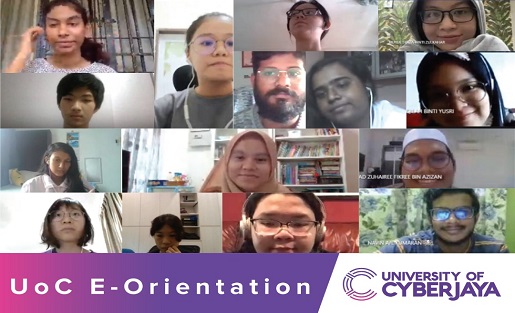 University of Cyberjaya Hosts e-Orientations for its June 2020 Intake
Cyberjaya, 24th June 2020 – The University of Cyberjaya recently held its e-orientations and e-registrations to welcome students into the new academic year. One of the session highlights included a pre-recorded video featuring Vice Chancellor, Prof. Dato' Dr. Mohamad Abdul Razak who gave an inspiring welcoming address.
Since students are unable to study at campus, they were also given a virtual tour of its facilities and surroundings with a pre-recorded video as part of the e-orientation programme. The virtual tour included visuals of the 1,500-seater grand hall, the 18,000 square feet modern library, science laboratory, Anatomy gallery and more.
The inaugural e-orientations marks the very first virtual welcoming ceremony the University has ever had. The #UoCNewbies showed up virtually with enthusiasm, grateful that their studies were not interrupted during this challenging time. The University prides itself for providing students with a solid education to get their future back on track despite the many limitations the lockdown has imposed.
Since the 18th of March, the University's programmes made a complete switch from classroom learning to e-learning due to the global pandemic. Lecturers and students adjusted to the switch seamlessly with the Learning Management System (LMS), used for sharing various documents and conducting activities, quizzes and assignments.
The University of Cyberjaya uses some of the most advanced e-learning tools to achieve an effective 2-way interaction between student and lecturer. In fact, all 3,500 students are provided with their own video conferencing tools to aid in the teaching and learning process.
Aside from that, the university recently held its very first e-examinations that allowed students to take their exams right at the comfort of their own homes. E-examinations are known to be effective as open-book testing allows students to answer questions based on their critical thinking skills instead of regurgitating memorised facts.
The e-learning programme is also made complete with an extensive e-library system that allows students to access a vast number of e-journals, e-books, and other online references. This allows students to access information anywhere so long as there is an internet connection.
Vice Chancellor, Prof. Dato' Dr. Mohamad Abd Razak said: "The COVID-19 pandemic has changed our lifestyles with a new norm. This has affected the teaching and learning programmes at Universities. Since the middle of March, all teaching and learning at universities and schools switched to online platforms. We take pride from the good feedback given from our existing students who are currently undergoing these e-learning programmes. It is indeed very challenging to adapt to this new norm of operations. However, we are constantly finding ways to improvise our methods so that it doesn't disrupt the teaching and learning process."
The University is proud to be welcoming its #UoCNewbies to their respective programmes and is ever more ready and versatile in its teaching and learning programmes to assist its students for the demanding working world.
The University of Cyberjaya is still open to new students who are interested to further their studies at a 5-Star University. Prospective students and parents of students may visit the University's Digital Open Day to engage with experienced Educational Counsellors, take a 360-degree tour of the campus, listen to career and expert talks and more.
Comments are closed.