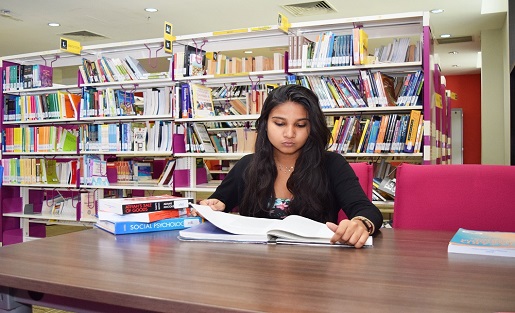 Vidula Choroomoney chose Malaysia as her study destination.
Student Envisions an All-in-One Rejuvenation Center in Mauritius
Vidula Choroomoney, an International student from the Republic of Mauritius is currently pursuing her Foundation programme in Allied Sciences leading to Physiotherapy at Cyberjaya University College of Medical Sciences (CUCMS).
Having to choose between Canada and Malaysia as her study destination, Vidula eventually settled for Malaysia as her top choice because it was closer to Mauritius and allowed her to travel back frequently. She also found the Malaysian environment and culture welcoming and easily adaptable. It provided an affordable lifestyle which was very convenient for her.
She just began her foundation programme and is very determined to pursue her education all the way to complete her doctorate (Ph.D.). Her parents were very happy and gave her their full support when she decided to pursue a career in Physiotherapy. Vidula's mother, who is also a medical practitioner, suggested that she consider Physiotherapy due the lack of and high demand for trained Physiotherapists in Mauritius. According to Medpages, there are only about nine Physiotherapy specialists in Mauritius.
Physiotherapy remains her foremost choice as it creates a balance between the patient's physical and mental health. "It provides a platform for me to have direct contact with patients as it involves continuous step by step diagnosis and assessment of the patient's condition", said Vidula. Her passion for sports and interest in medical are interconnected factors that led her to pursue this programme.
Vidula is keen to create her very own Physiotherapy center when she returns home to Mauritius. The center she envisions would be one of a kind and different from existing ones as it would include complimentary services such as beauty spa and a built-in fitness studio to create a memorable experience for patients who choose to seek treatment there. Alongside providing health treatment, her key purpose is for her patients to feel happy whenever they come for treatment and to be transformed with a complete makeover thus leaving the center with a memorable experience.
Comments are closed.