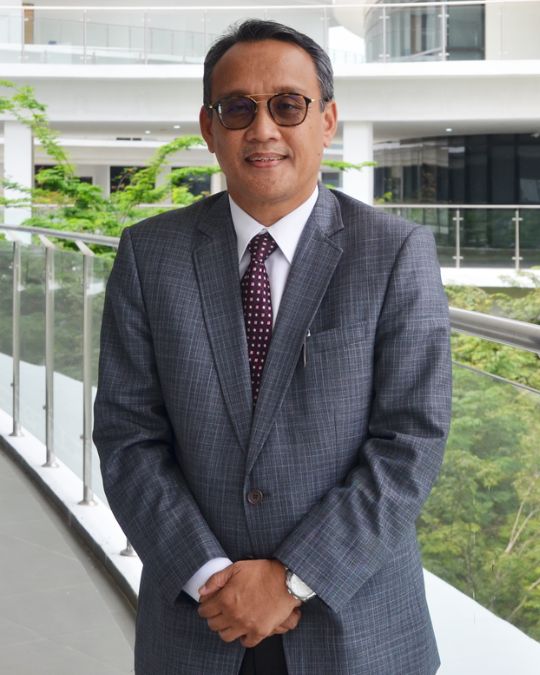 Cyberjaya, 13 February 2023 – University of Cyberjaya (UoC) is pleased to announce the appointment of its 5th Vice Chancellor effective today, 13th February 2023. With this, Professor Zabidi Azhar Mohd Hussin becomes the 5th Vice Chancellor and Chief Executive of the University.
"This is a part of a robust and strategic succession plan to continuously provide excellence in education at the University. As one of the leading private higher education institution with a focus in medical health sciences since our exception in 2005, having Professor Dr. Zabidi Azhar to oversee the university will further nourish our quality of education and strengthen holistic learning and outstanding student experiences." said Y.Bhg. Tan Sri Dato' Dr. R. Palan, University of Cyberjaya's Pro Chancellor.
"The employability of our graduates will be my main focal point during my tenure here as the Vice Chancellor. How I go about with this is by ensuring that our graduates are provided with not just quality education but also comfort to gain knowledge."

UoC Vice Chancellor, Professor Dr. Zabidi Azhar
Professor Dr Zabidi graduated with a MBBS from the University of Newcastle Upon Tyne, England in 1985. His keen interest in children's health led him to obtain his Diploma in Child Health (DCH), Glasgow in 1987. In 1991, he received his membership to the Royal College of Physicians of Edinburgh and became a Fellow of the Royal College of Paediatrics and Child Health in 1997.
With extensive experience in teaching, research and leadership, Professor Dr Zabidi's field of specialisation lies in Paediatric Neurology and Medical Education with special interest in bioethics and communication skills. He is also the honorary editor for the Advances in Medical Education and Practice and was recently awarded the Neurology and Neuroscience Excellence Grant. Professor Dr Zabidi serves as a Council Member of the Malaysian Medical Council, member of the Ethics Expert Panel for the European Research Agency and a member of the Malaysian Qualification Agency's accreditation panel for the Malaysian and International Accreditation. He is Head of Child Health Cluster for Malaysia's National Professors Council and a visiting professor for Universitas Jeneral Soedirman, Indonesia and the American University of Sovereign Nations, USA.
Professor Dr Zabidi has previously served in senior roles in University Sains Malaysia as Dean of the School of Medicine (1999-2005) and General Manager of the USAINS Tech Services (2005-2016) while serving as a Professor of Paediatrics at USM. He was also formerly the Vice-Chancellor of Perdana University and the Pro Vice-Chancellor, Academic at IMU.
Professor Dr Zabidi takes over from Emeritus Professor Dato' Mohamed Abdul Razak, the University's former Vice Chancellor who served for 9 years, since 2014. Emeritus Prof. Dato' Dr Mohamad was instrumental in securing the then-CUCMS' successful transition from a university college into the full-fledged university that it is today.
Professor Dr Zabidi will be taking over as the Vice Chancellor at a time that the University of Cyberjaya is fast growing into a household name in the education industry in the country. The University is also affiliated with Cyberjaya College Kota Kinabalu and Cyberjaya College Kuching in East Malaysia, making a total of more than 7,000 students currently studying in all three locations combined.