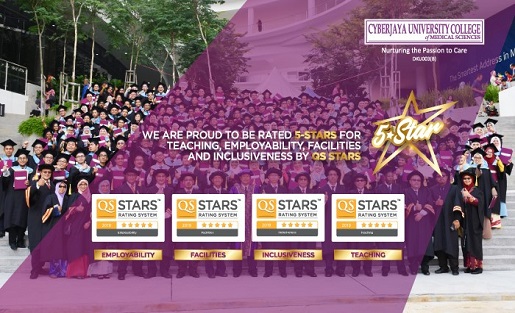 "Another significant achievement that puts CUCMS in the world map"
A testament of its outstanding achievement in the national and international arena, Cyberjaya University College of Medical Sciences (CUCMS) received yet another recognition by Quacquarelli Symonds (QS) recently. CUCMS was awarded 5-Star in four (4) categories of the QS Stars Rating namely, Teaching, Facilities, Employability and Inclusiveness. The QS Stars rating measures the achievements of universities worldwide.
The QS Stars audit evaluates an institution against different indicators, and awards universities between one and five stars over eight categories, as well as an overall rating. CUCMS was awarded an overall rating of 3-Star.
The MBBS programme at CUCMS was giving a 4 Star rating. This consolidates CUCMS's position in the deliverance of quality medical education in the region. It is also a testament to the University's commitment to producing top-notch medical professionals.
QS Stars is a rating system which allows students to get a wider picture of an institution's qualities, looking at everything from the employability of graduates, to facilities and community engagement. It is designed to reflect the nuanced mission of universities, and the needs of students who may be interested in things other than those to which traditional rankings are necessarily limited.
The four categories that CUCMS was awarded 5 Stars are:
Employability – Graduate employability encompasses more than academic strength, focusing on 'work-readiness' – the ability to work effectively in a multi-cultural team, to deliver presentations, to manage people and projects. Common indicators in this area are surveys of employers, graduate employment rates and careers service support.
Teaching –  A key role of a university is the nurture of tomorrow's finest minds, inspiring the next generation of potential research academics. Typical indicators in teaching quality assessments are a collation of student feedback through national student surveys, further study rate and student-faculty ratio.
Facilities – University infrastructure is an indicator which enables students to know what to expect from their university experience. Indicators such as sporting, IT, library and medical facilities, as well as the number of student's societies,  are considered within this criterion.
Inclusiveness – This area looks at the accessibility of the university to students, particularly at scholarships and bursaries, disability access, gender balance and low-income outreach.
The category that CUCMS was awarded 4 Stars is:
Internationalization – Effective indicators could be the proportion of international students and staff, the numbers of exchange students arriving and departing, the number of nationalities represented in the student body, the number and strength of international partnerships with other universities and the presence of religious facilities.
Comments are closed.