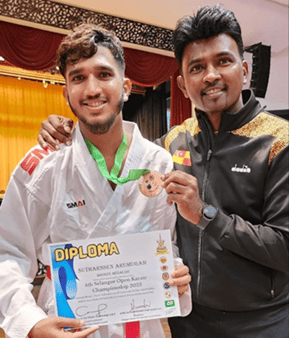 Meet Sutharssen a/l Arumugam, a dedicated student at Cyberjaya College Central (CCC) who is making waves in the world of karate. Sutharssen's journey in karate began at the tender age of 4 in 2005. Since then, he has participated in an impressive 282 tournaments and achieved a 1st Dan black belt certification from both the International Karate-Do Federation Japan and Malaysia.
When asked why he chose karate over any other martial arts or sports, Sutharssen revealed that it was a family tradition. His parents are karate masters themselves, and this legacy inspired him to follow in their footsteps. Sutharssen's parents, Mr. Arumugam and Mrs. Amirtham, are not only his coaches but also his greatest inspiration in pursuing martial arts. Their guidance and support were instrumental in his karate journey. Throughout his karate journey, Sutharssen has remained loyal to his parents' team, ITOSU-RYU KARATE-DO Martial Arts School, where his parents, Mr. Arumugam and Mrs. Amirtham, serve as his coaches.
Sutharssen's dedication and hard work in karate have yielded impressive results. He recently won the bronze medal in the Kumite Male -67kg category at the 4th Selangor Open 2023, held at UPM Dewan Besar. In addition, he represented Malaysia at the ITOSU-RYU World Championships in 2013 and 2017, showcasing his skills on the international stage.
During his remarkable journey, Sutharssen had the privilege of representing Malaysia in international competitions. He competed in the World Tournament in Japan in 2013 and in China in 2017, showcasing his skills on a global stage. Looking ahead, Sutharssen is not resting on his laurels. His next goal is to clinch gold at SUKMA 2024, demonstrating his unwavering determination to excel in karate.
Sutharssen's academic journey brought him to CCC, a decision influenced by his uncle, who is a construction manager. Previously, Sutharssen worked as a safety supervisor on a construction site. Now, he aims to further his career by pursuing a Diploma in Occupational Safety and Health at the University of Cyberjaya. He is currently enrolled in the Certificate in Science programme at the College.
Sutharssen Arumugam is a shining example of a student who excels both in sports and academics. With a promising future in the field of occupational safety and continued success in karate, he is a true inspiration to his peers at CCC and beyond. We wish him the best of luck in all his future endeavours, both in the dojo and in his studies.