Cyberjaya, 19th September 2019 – Cyberjaya University College of Medical Sciences (CUCMS) hosted its first idea-sharing platform, SPARK 2019 on 18th September 2019. Dubbed the Sharing Positivity, Aspirations, Resources and Knowledge (SPARK), the programme aims to showcase influential speakers of every discipline and culture to change attitudes and lives of the people in our community.
This event saw a gathering of more than 700 students, staff and the community around Cyberjaya. SPARK 2019 featured Azran Osman-Rani and Asha Gill who delivered two highly motivating talks at the CUCMS Grand Hall from 10 am to 12 pm.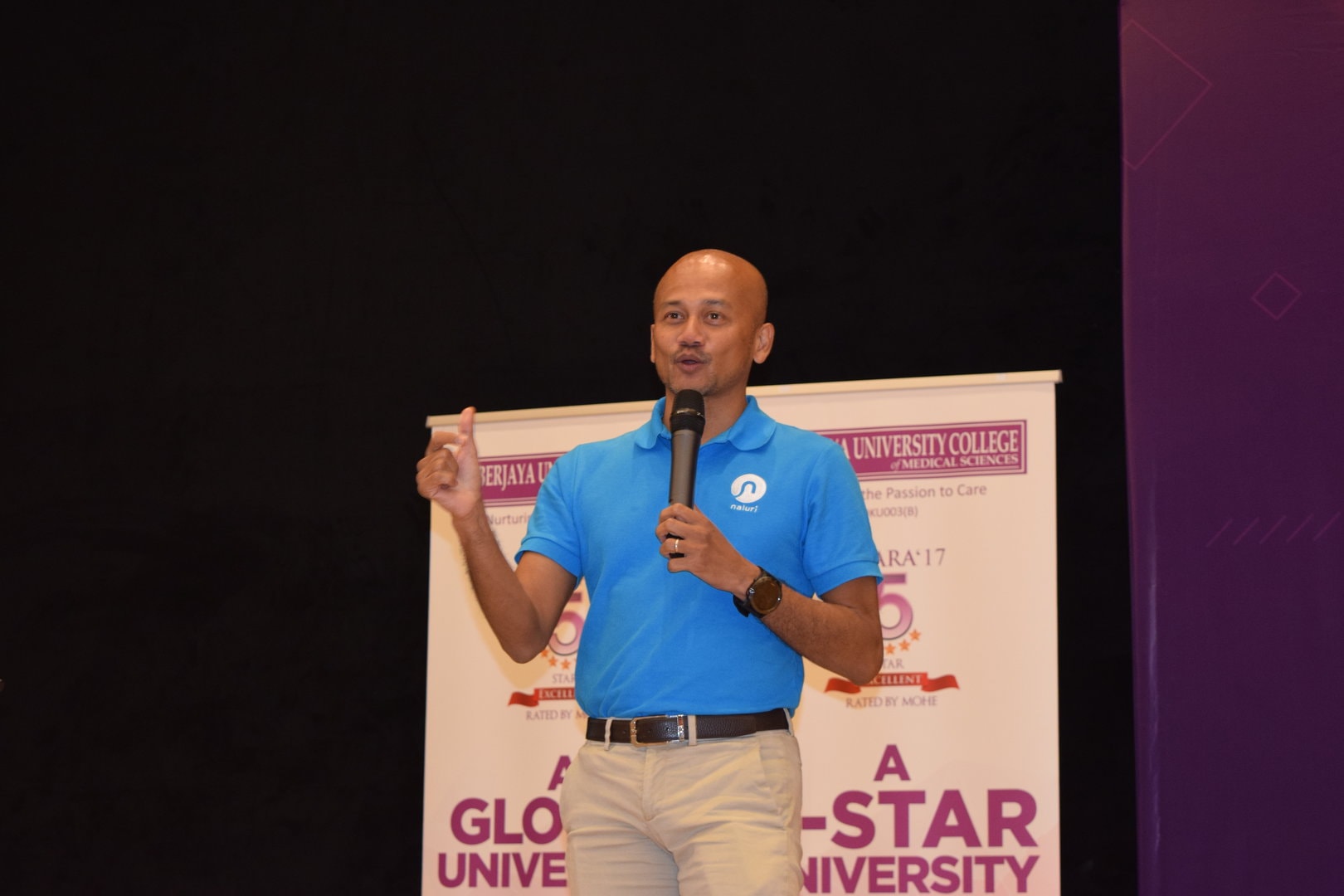 Azran Osman-Rani, a serial entrepreneur has spent more than 15 years building brands that provide the mass market with more affordable products and services. These include low-cost airline AirAsia X and video-on-demand service iFlix. Recently, Azran turned his focus to health and through his talk at SPARK 2019, 'Health is Wealth', he wants better health to be an attainable goal for all and wants to do this through digital therapeutics'.
"I did a DNA analysis on myself several years ago and found that I have the obesity gene, hypertension gene and high-cholesterol gene — basically the all-in-one package. I know that I am not alone. I am a typical Malaysian example," says Azran.
"The problem lies in the behaviour gap. When someone gets diagnosed by a doctor and told that he is diabetic, he is told to change his diet, manage his lifestyle, cut down on stress and take medications. But a whopping 74% of these people do not actually follow the advice. When they leave the hospital, there is no one stopping them from returning to their old lifestyles."
To solve this problem, Azran developed Naluri, a digital therapeutics service that assigns an individual a professional health coach who will check in with him regularly online. The goal is to help users achieve better health outcomes by building the necessary mental resilience to cope with their specific health challenges. Students were left with the impression that though life may pose many inevitable risks, it is how we learn to cope, adapt and make the most out of it that matters most.
Television and TV host turned life coach Asha Gill, is no stranger to the public eye. She has now dedicated her life to improving the philosophies and teachings of the world that can be applied to an individual's progression in life. Asha's talk, "Whatever You Think, You're Right" talks about self-confidence and having the right mindset to champion through life.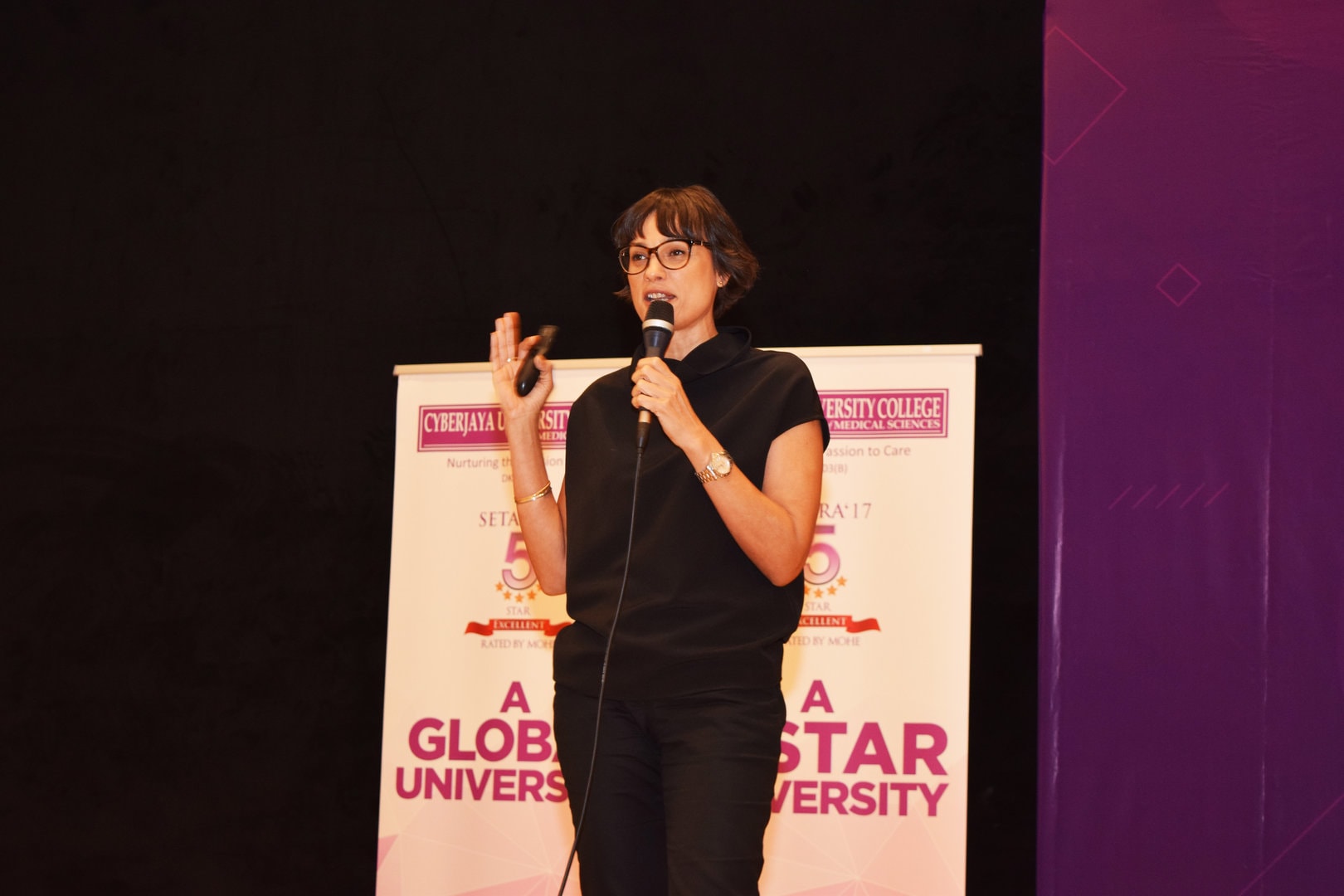 "As human beings, we are wired to follow in what we think and what we believe. If we believe in and think on the positive about ourselves, our actions will surely follow this route in life. On the other hand, thinking that we cannot do or achieve something also sets us on a course to fail and fall short. Despite what some may try to say, a person's own mind is one of the strongest influences that will ever be present in their life," says Asha.
So how does one overcome the back-peddling of self-confidence that seems so common in life? How does a person hold on to their thoughts of "I can," even when reality would try to convince them otherwise? It happens only when we change our mindsets. It is only when the reality of what we think we CAN do becomes greater than the reality of what we cannot do that results begin to manifest.
Guests were also treated to a performance by Muhammad Shazril Aqif bin Mohd Anuwai, a Year 2 student from the faculty of Occupational Safety and Health. The talented lad serenaded the audience with his own song compositions.
"Azran and Asha left a powerful impact on the audience today. Their ideas are fresh, game-changing and hopeful," Nazatul Aqira binti Mohamad Nor, a year-2 student from Diploma in Business Administration.
"Listening to these two powerful speakers today made me realize that everything we do today will be a consequence of the future. It is time to create new habits and generate a positive echo in society", Nik Muhammad Nazren bin Nik Md Zarir, a year-2 student from Bachelor of Medicine and Bachelor of Surgery (MBBS).
In line with the mission of CUCMS to be a holistic education provider and a positive, growth-oriented workplace, we are proud to be able to make this effort possible for our staff, students and the public. We hope to continue this effort in the years to come to provide a platform for the community to engage with each other in a healthy exchange of ideas.