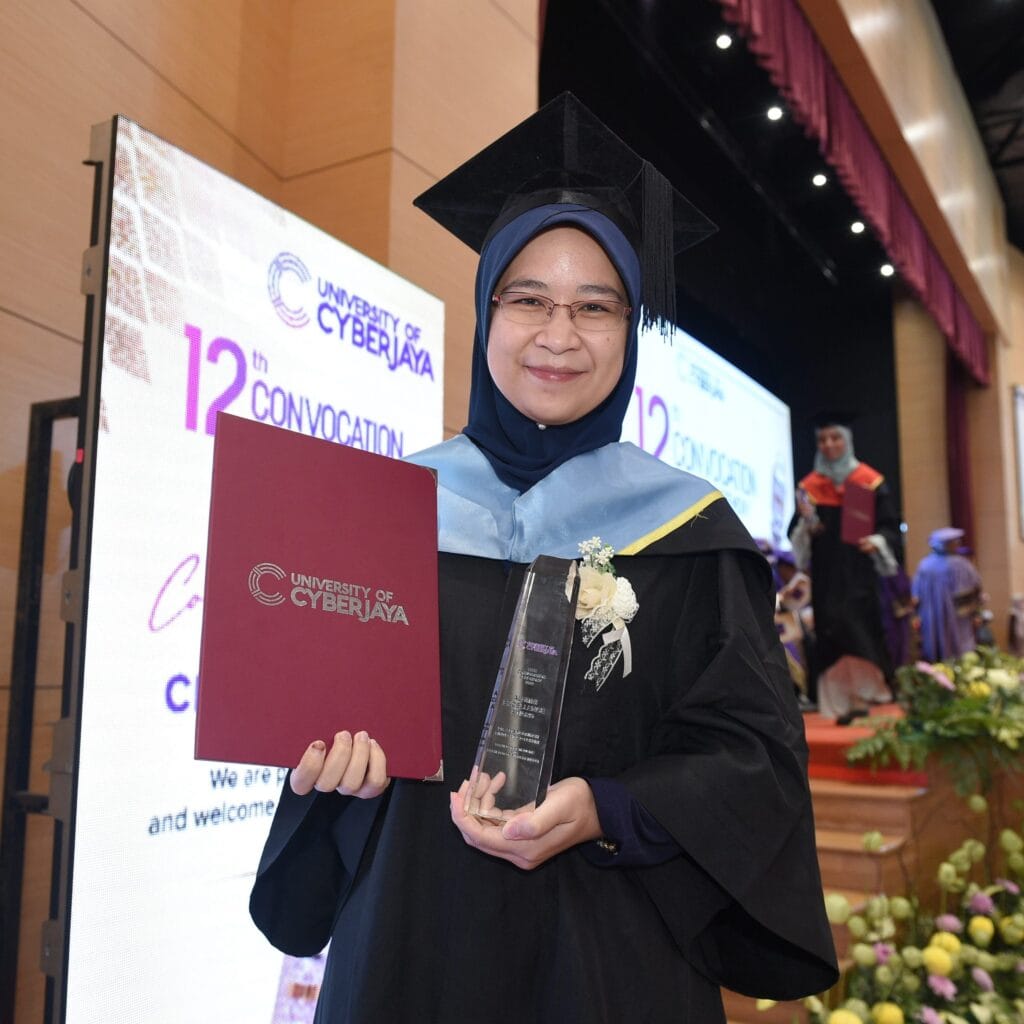 Appreciating and recognising one's effort is a great way to increase performance, productivity and morale. Cognizant of this fact, University of Cyberjaya (UoC) acknowledges its brightest and best students and graduates – even after they have left the University to traverse on their own.
The university recently presented 7 awards to its students and graduates which included the Chancellor's award, Vice Chancellor's award, Dean's award, and more at its recent 12th Convocation Ceremony.
One of the awards is the Alumni Excellence Award which is awarded to graduates who have distinguished themselves at the regional, national, or international level. This award pays tribute to their achievements and call to the public's attention the vital role that University of Cyberjaya graduates play in the social and economic lives of their communities.
This award was presented to Dr. Alia Nadhirah binti Ahmad Fakhri, UoC's MBBS graduate, Class of 2014 for her significant achievement and contribution, in the recent COVID-19 pandemic when it was at its peak. Dr. Alia created the Integrated Bed Entry and Database System (IBEDS), which is an excel-based project on the data management of COVID-19 patients.
This system efficiently manages patient data with real-time reporting using Microsoft Excel and was implemented in Pahang's largest quarantine centre that housed 1,400 beds. Her invention earned her the Winner of the Jury's Choice Award at the JomLaunch Programming Conference 2021, a conference of ICT professionals across the country.
"During the peak of the COVID-19 pandemic, I was working as an administrator in the operational room for one of the COVID-19 quarantine centres in Pahang. The situation was overwhelming as we had to input, analyse, and update the data for bed assignments which was a time-consuming process. To increase efficiency and productivity, I was able to come up with IBEDS which resulted in the reduction of work processes from hours to minutes, reducing errors and duplication of data," said Dr. Alia.
At her first convocation as an MBBS graduate at University of Cyberjaya, then known as Cyberjaya University College of Medical Sciences in 2014, Dr. Alia had just delivered her first child and had to attend the ceremony in a wheelchair. She shares of how grateful she felt about both convocation ceremonies, each with a special moment of its own.
"I feel both honoured and very humbled to be receiving such a prestigious award from this university. It's not something that I expected to receive," she said about obtaining the award.
Aside from her accomplishments during the pandemic, Dr. Alia has also published several books and pocket-sized notes under her brand, Alia's Notes. Her publications feature an array of illustrated extra notes on a number of medical topics for medical students. Her first book titled, Performing Physical Examinations was reviewed by the then Dean of Medicine, Professor Dr. Abdul Latiff who reviewed a chapter and authored the foreword.
Dr. Alia is also a Mediacorp Resources speaker on paediatric courses for preparatory house officers which helps prepare junior doctors upon entering their paediatric posting. She also facilitates the Neonatal Ward Simulation Course twice a year.
On advice to MBBS graduates, she says, "When you put in effort and get the results, you gain confidence. When you put in effort and don't get results, you gain experience. In essence, put in the effort and leave the results to the Almighty."