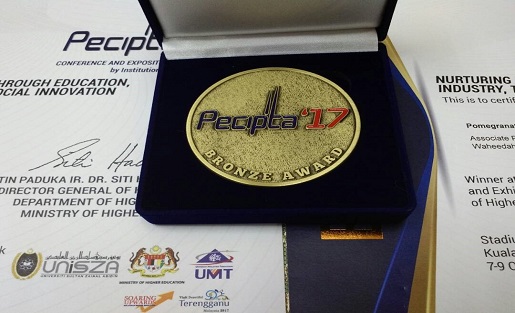 "This wasn't our first time participating in PECIPTA as we had previously won a medal from the invention of Solehring. This proves that Cyberjaya University College's research is at par with other universities and has been recognised as such," said Dr Wan Rosalina
"Pomegranate Baby Skin Care set" wins Bronze at PECIPTA 2017
Members of the Cyberjaya University College's research team from the Faculty of Pharmacy, Associate Professor Dr Shamima Abdul Rahman and teammates Mdm Mahani Mahadi and Mdm Waheedah Abdul Hakeem celebrated their success in a recent endeavour by winning a Bronze Award during the PECIPTA 2017 exhibition at Stadium Tertutup Kompleks Sukan Negeri Gong Badak, Kuala Nerus, Terengganu Darul Iman on 7 – 9 October 2017.
PECIPTA 2017 was a three-day International Conference and Exposition on Inventions by Institutions of Higher Learning (PECIPTA). It is a biannual program organized by the Malaysian Ministry of Education together with selected universities since 2001.
This year's PECIPTA 2017 theme was 'Nurturing Entrepreneurs through education, industry, technology and social innovation'. PECIPTA creates networking and collaboration opportunities for participants to develop prototype and to commercialize their products. PECIPTA is also the platform of choice for universities in Malaysia to showcase their research advancements.
Winning an award in a highly competitive and challenging atmosphere is no small feat. Among 416 participants, the team laboured to produce the "Pomegranate Baby Skin Care set" using homegrown pomegranates. This berry is known for its rich nutrients, medicinal remedies and hepatoprotective effect which refers to its ability to prevent damage to the liver. Pomegranates are also well-known for its high anti-oxidant content and as an anti-inflammatory agent.
The baby skin care set consists of an infusion oil, cream and balm which was made using pomegranates as its active ingredient. Pomegranates help to moisten and soften baby's skin whereby it helps to avoid 'Atopic Dermatitis' (Eczema) which refers to a condition that makes the skin red and itchy. This product also helps reduce infants' tendency to scratch and cause skin inflammation. It also has an anti-inflammatory property that fastens the healing process of an inflamed skin.
Apart from that, the invention of this product was also to promote and support agriculture in Malaysia as these potent berries were often imported from Middle East countries, India and more resulting in a decreased production locally. As a reward, a Bronze award was theirs to take home.
According to Dr Wan Rosalina Wan Rosli, Head of Research Management Unit based in Cyberjaya University College's Research Resource Centre, "This wasn't our first time participating in PECIPTA as we had previously won a medal from the invention of Solehring. This proves that Cyberjaya University College's research is at par with other universities and has been recognised as such. Therefore, RRC hopes that many researchers would be inspired by this success and use this as one of the accelerating factors to strive for new discoveries through research and innovations that are of highest quality in the future".
Cyberjaya University College envisions to continuously produce quality and excellence in academic and research development in accordance to its vision which is to be a distinctive institution of higher learning, producing competent healthcare and related professionals.
Comments are closed.